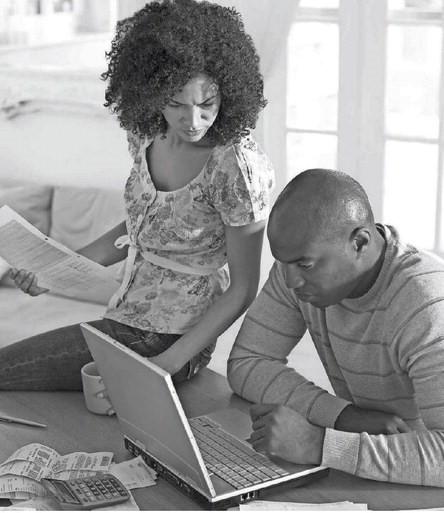 It's well-documented that homes in Black neighborhoods generally appraise for less value than similar properties in predominantly white areas.
There's no single explanation for this disparity, which is the result of hundreds of years of history and policy ? as well as social biases ? but it's clear that the appraisal gap has a tangible impact on Black homeowners.
Black communities tend to be poorer than white communities, due in part to the lower values assigned to properties. Understanding the appraisal gap takes grappling with the history of real estate in America, and addressing it will ultimately mean dealing with its root causes.
The appraisal gap comes from two major sources: structural inequities Black people face in the real estate industry and the internal bias of appraisers.
'Starting with slaves being released in 1865, 12 years of Reconstruction and then the start of Jim Crow laws,' said Mark Alston, president of Alston and Associates Mortgage Company in Los Angeles. 'Because of the bias, racism, the economic deserts in Black neighborhoods, fewer stores, fewer resources, then those properties became worth less.'
For much of the 20th century, it was also more difficult to secure financing for homes in predominantly Black neighborhoods, because the federally endorsed practice of redlining discouraged lenders from extending loans in those communities.
The legacy of redlining continues to affect housing because segregated communities received fewer municipal resources, which meant property values in those areas rose more slowly over time compared to neighborhoods that started off better served.
The low property value foundation in Black communities is exacerbated by current-day appraisal practices, which rely heavily on individual appraiser observations and comparisons to past sales of similar properties in the neighborhood. Appraisers can be influenced by unconscious bias, and the longstanding trend of homes in Black neighborhoods being worth less is reinforced by comparable sale comparisons.
A 2018 study by the Brookings Institute found that Black homes are undervalued by $48,000 on average. Shanta Patton-Golar, the vice president for the National Association of Real Estate Brokers region 15, said that other studies have shown even larger gaps.
Lower property values mean less home equity, which makes it harder for Black families to build wealth even when they own property.
'It takes billions of dollars out of the Black community,' Patton-Golar said. 'It hurts everything, it hurts our ability to pay for college for our kids, it hurts our ability to put more money away for our retirement, it hurts our ability to move to other areas that may have better schools.'
Black homeowners also face higher homeownership costs because consistently low appraisals can mean they're stuck with higher-interest mortgages.
'If you can't get an appraisal for the value you should be, you don't have the opportunity to refinance,' Alston said.
There's not much homeowners can do to combat the appraisal gap, and the few tools available to them could at best be described as demoralizing.
'I owned a house that I listed and could not sell in Hollywood Hills, in an upper-class neighborhood. I had to move out, take my art off the walls and hire a white agent to sell it. That's not an unusual story,' Alston said.
Patton-Golar said that removing signs of who owns the property is a common tactic among Black homeowners and sellers getting ready for an appraisal.
'You have to remove the Black from the home to have it valued as a white household,' she said.
The appraisal gap comes from two major sources: structural inequities Black people face in the real estate industry and internal bias on the part of appraisers. TNS