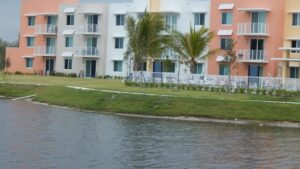 Florida Realtors, the state's largest trade organization and the third-largest Realtor organization in the country, is taking on Gov. Ron DeSantis and state GOP lawmakers over recent legislation that permanently pillages a critical affordable housing trust fund.
The move comes as the prices of homes — and rents — skyrocket across Florida. The surge in costs has aggravated a chronic problem in the state: many lower- and middle-income residents cannot afford the cost of housing. On top of that, state leaders again this year siphoned away dollars from a pot of money specifically created to help ease the home price crunch.
Supported by the state's Republican-led Legislature, DeSantis in June signed a bill to divert permanently half of Florida's affordable housing trust fund — called the Sadowski fund — to pay for wastewater systems and sea level rise projects.
Not OK, said Florida Realtors, which boasts more than 200,000 members. Beginning June 28, the group kicked off a ballot initiative to override DeSantis' bill and protect the housing fund from ever being swept again.
What house can you afford?:No matter what region in Florida, it's getting harder to find that magical $250,000 house
Housing costs:Palm Beach County housing affordability crisis is getting worse. Is a solution on the way?
Palm Beach County real estate:We're closing in on $500,000 median prices
The new law — formerly Senate Bill 2521 — permanently pilfers the fund by "revising and deleting distributions of the documentary stamp tax to leave only a portion of the fund "for the purposes for which the State Housing Trust Fund was created and exists by law."
Florida Realtors must collect 891,589 signatures by Dec. 31 to ensure the initiative makes it on the 2022 ballot, but seeks to collect one million signatures, it said. Both Florida Realtors and the National Association of Realtors are helping fund the initiative with donations that thus far total $13 million, they said.
How Florida's housing Sadowski fund works
The fund was created decades ago to supply dollars for affordable housing. Funded by a fee on every real estate transaction in the state, the dollars that pile into the fund are then distributed to a pair of state programs that provide assistance to counties and subsidies for developers.
Funded by a documentary stamp tax on real estate transactions, Sadowski at its inception almost 30 years ago earmarked 70% of the total annual fund revenue to be distributed to local governments through the State Housing Initiatives Partnership program, orSHIP, and the other 30% to go to a state trust fund through the State Apartment Incentive Loan, known as the SAIL program.
SHIP funds are distributed by Florida Housing Finance Corp. to local governments in all 67 counties throughout the state to produce and preserve housing for very low, low and moderate income families. SAIL provides developers low-interest — and in some cases interest-free — loans as an incentive to build or rehabilitate lower-income housing.
These Sadowski-funded programs are often the only resources available to help low- to middle-income workers afford housing, said Florida Realtors President Cheryl Lambert in a statement to The Palm Beach Post. That includes, she said, providing rental and down payment assistance to essential workers such as nurses, firefighters, teachers and first-responders.
"The recent law that permanently cuts the funding of these housing programs by 50% puts them in serious jeopardy, and Realtors agree that it's time to take action," Lambert wrote. "These programs, which are funded solely by the state and local government housing trust funds, have been an invaluable tool in the state's efforts to combat its escalating affordable housing crisis."
But it's been rough seas for SHIP and SAIL since 2002, when then-Gov. Jeb Bush raided Sadowski for other purposes to the tune of $12 million. 
Adding insult to injury, the state legislature in 2005 enacted a cap on the amount of money the fund could receive, explained Jaime Ross, facilitator of the fund and president and CEO of Florida Housing Coalition.
"I thought once we got this act passed, we were done," she said of initiating the fund in 1992. "I didn't think we'd ever have to advocate for the money. It really took me by surprise. I didn't understand that the money could be taken."
But it could — and it has.  And while the cap has since been scrapped thanks to another campaign led by Florida Realtors, Ross said, legislators have continued to dip their hands into the Sadowski cookie jar.
Billions raided from Florida affordable housing fund
State records show the total amount pillaged since 2002 now exceeds $2.3 billion, which is 69% of the total monies appropriated and about 39% of the total funding since then.
Today, under the new law DeSantis signed, Palm Beach County will lose $10 million in Sadowski funding in 2021-2022 fiscal year alone. Those are monies that could provide additional rent subsidies for families in need or even down payment assistance for those looking to buy a home. It could also provide an incentive for  developers to build or rehabilitate affordable housing by providing them low-interest loans.